The point on varietal innovation from Nova Siri Genetics' Emea director. And in a year, the first raspberry cultivar
Strawberries have been part of Italy's traditional crops since the 1950s, and from a production standpoint, the experience achieved is at the highest level. "We have innovated a lot and understood how to produce quality even bypassing seasonality(we can now supply strawberries 12 months a year, ed.), although there are different conditions in different regions, and numerous production areas in each region. However, strawberry and berries are different categories". Thus begins the analysis of Carmela Suriano, Emea (Europe, Middle East, Africa) director of Nova Siri Genetics (NSG) and president of Op Terre della Luce in Policoro, Basilicata.
Berries, working for winter production
"For summer production of berries in the north, companies have led the way - the manager continues - Now the problem is to spread in the southern regions low chilling varieties that can produce in the winter months. A lot depends on varietal innovation; we need cultivars that can meet the needs of production. In short, it will still take some time to understand these fruits, how to produce them, the needs, the varieties. As far as Nova Siri Genetics is concerned, the work is already underway and will give results soon. Certainly the south has the conditions to make quality product."
But it needs to be put into context. "The market's need to have Italian product clashes with current difficulties, especially related to production and labor shortagesAspects that our companies will be able to overcome. Among the goals of NSG's genetic improvement program is todentify new raspberry and blackberry varieties to meet the demands of southern producers.. Thus, cultivars with low cold requirements, winter production, shelf-life and taste. Today, the Italian market is fluctuating, not yet mature, but has important room for growth. Surely, however, within a few years southern Italy will also play an important role in berries production".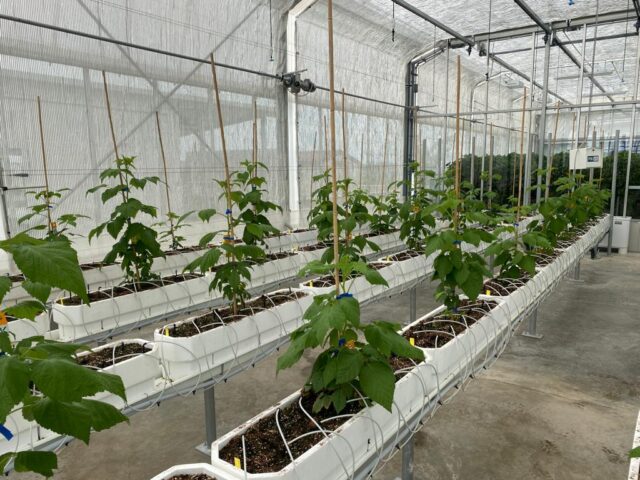 Towards the first NSG raspberry variety
Taste is not enough; for markets far away from production, shelf life is increasingly important. "Berries need to be able to stay on the counter for longer periods of time - explains Carmela Suriano - We have identified a rather promising raspberry selection, for which we will soon submit a plant breeder's rights application, in order to start marketing it as soon as possible.
At the moment berries account for 10% of Nova Siri Genetics research efforts. "It is very important to understand which raspberry or blackberry the market wants - She observes - Because needs change quicklyand research has to give answers and foremost to producers. Climate change, with the alternating drought/violent rainfall, has changed the research paradigm".
"NSG strawberries, competitive advantage for the grower"
"The varieties developed by Nova Siri Genetics have confirmed the pluses in terms of earliness, shelf life and (in the specific case of Marimbella) extended production for six months a year, a competitive advantage for the grower" explains the Emea director, who adds: "As far as earliness and productivity are concerned, just this year (characterized by temperature fluctuations and variable weather, ed..) we have had further confirmation of the validity of our varieties. This is proven by the producers who keep asking for them".
"But the research does not stop and we already have two selections that we are evaluating and that can bring not only rusticity but also improved organoleptic characteristics, something extra that we want to give the producers in terms of aroma, a fundamental characteristic. Because the Brix degreeis important, but it is not the only factor. I have tasted strawberries with a very good Brix but they did not surprise me, or surprise me much, because they were not aromatic. The winning mix must hold Brix, aroma and acidity together. Let's say that it can still be improved.".
For example, with the nutraceutical aspects"Genetic improvement serves precisely this purpose - says Carmela Suriano - There will never be the ideal strawberry ma but some ideal strawberries,, because tastes are not the same for everyone. And we look for something new that will please the consumer and the buyer.Who do not always have the same vision, the buyer wants it strong and colourful, the consumer has a different yardstick'.
Then, of course, temperatures have a big influence, this year's wet spring had a big impact. "The shelf life of our strawberries is very good, but after 20 days of rain, what can you do?" asks Suriano.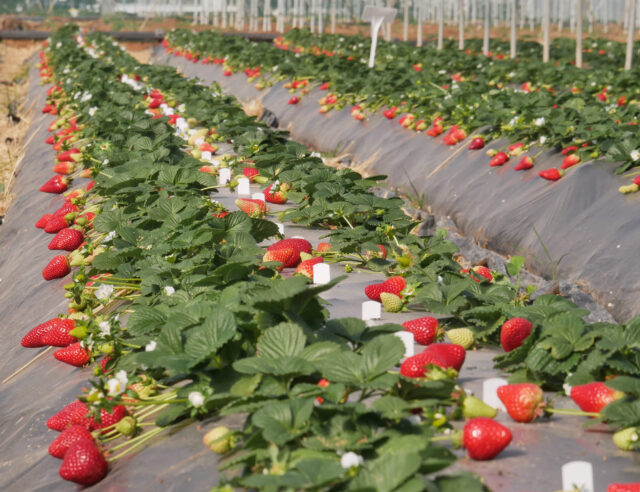 Cold chain, logistics and department to end on a high note
Not only varietal innovation, the cold chain has a decisive influence on the shelf life of strawberries and berries. "Logistics plays a very important role - says Suriano - I can have the most resistant strawberries, but if they suffer interruptions in the cold chain, the repercussions will still be negative. Supermarkets are more and more careful but not all large-scale retail chains work in the same way. A lot depends on the management of the department and the importance the brand gives to fruit and vegetables. If we transport at 6-7 degrees and then in the supermarket the strawberries are displayed at 15-20 degrees, it is not good. However, I believe that in a few years the department will also be rethought. A lot of fruit is still being lost and not only because of the shelf life of the variety". e non solo per colpa della shelf life della varietà".
The positioning of strawberries in the department also needs to be reviewed. "They are usually placed with fruit like apples and pears, which have different requirements. Then, also the type of packaging is strategic, we use the lid more and more, because of the ability to keep the fruit intact. It is a really complex job and the implementation of the new EU packaging regulation, as it stands, is unimaginable. It could make people stop growing strawberries", Carmela Suriano concludes.
Source: Myfruit.it